HALKIDIKI

PORTES BEACH HOTEL

LOCATION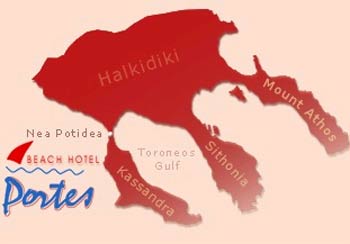 The wonderful PORTES BEACH HOTEL is located at the renowned Halkidiki prefecture, which is a very privileged region of the great geographical district of Macedonia.

On the western side of Halkidiki, at the beginning of the Kassandra Peninsula, the first prong of the prefecture, you will come across the region of Nea Moudania.

At a distance of only 4 km from Nea Moudania, the amazing Potidea prevails due to its various natural beauties.

The PORTES BEACH HOTEL, at Potidea, is located at a distance of 55 km from the airport of Thessalonica and 60 km from the port and the train station of the city.

The supernatural beaches of the Toroneos gulf are located at a distance of only 1 km far from the complex and it is indispensable that you should visit them in order to relish endless moments of swimming and sunbathing.
Please share your opinion of it with other travelers. Write a review!