HALKIDIKI

HALKIDIKI

Mountains and Halkidiki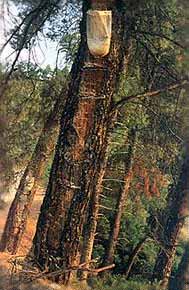 While Chalkidiki is known mainly for its breathtaking coastlines, visitors who venture beyond the well-known beach resorts and into the mountains will discover villages and peoples, whose way of life has changed little over the centuries.

Tending to their livestock, coaxing forth the fruits of the land, weaving rugs and, of course, celebrating religious days and observing local customs are still part and parcel of their everyday existence. If you're lucky, you might even chance upon a traditional village wedding or a pre-Lenten feast in the main square. Don't leave inland villages like Polygiros and Arnaia without stocking up on delicious homemade sweets and other locally-made goods. Wherever you choose to drive to, exploring the mountains of the area, with the surrounding wooded slopes, the rustle of leaves, the variety of colours and shapes is a unique chance for true enjoyment.
Please share your opinion of it with other travelers. Write a review!